How To Get Started in a Coworking Space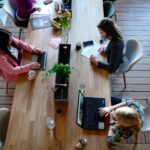 While 2020 threw us us some curveballs, working from home was one of the biggest. In 2020, over 4.3 Million Australians have been working from home. Remote work gives the opportunity to ditch the commute, add flexibility to our lives, and wear pajamas to meetings. 
We have grown accustomed to pivoting our job to working from home, but while the flexibility fits in better with our lives, often the long list of distractions piling up and banging on the office door, make it feel impossible to be productive at home.
Enter the coworking space.
More and more companies are offering remote work opportunities, and with a yearly growth rate of 21.3% they'd be crazy not to. It's the perfect amalgamation of flexible work and remaining productive and part of a community. So, what is a coworking office, and how do you start working remotely? 
The coworking office is an office for rent with all of the amenities you need for a productive work day. Unlike working from home though, you're part of a community of other people doing the same. It comes in at a fraction of the cost of renting a commercial space, eliminates commuting and combats the unproductive nature of the home office.
How do I get started?
The first thing to do when looking for a coworking space, is to find somewhere close to you that matches your needs. Each coworking space is a small ecosystem, and some will fit better than others. Finding somewhere you feel comfortable and you feel like you can get work done is paramount. If you're a freelancer, this is simply a matter of finding what fits well. However, if you're a remote worker, you may need to consult with your employer before searching for a space.
Once you find somewhere you are happy with, it is always best if possible to have a trial day. Trial days are a great way to see if the space suits well before committing long term. This also gives the opportunity to meet other people within the space and network.
Time to dive in!
Have you found somewhere that fits? Time to get started and soak up all coworking offers! Some coworking spaces require a lock in membership for at least a month, but others are more flexible. At The Herd, we have no lock ins, so you always have the time and space to find what works for you!
Depending on your needs, you can access basic amenities to get your work done while being close to home and finish up for the day, or you can have access to the further coworking community! Many spaces offer networking events, social gatherings, even workshops or keynotes. Each space has something unique to offer, so be sure to take advantage of it!
Coworking Offices are pretty special, and trust us, once you've given it a go, there's no going back! 
If you live in the Gippsland area and are looking for a coworking office near you, book a trial day through the casual bookings page on our website. Otherwise, give us a call on 03 5644 3321, we can't wait to meet you!