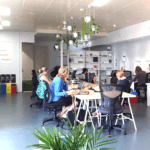 One of the most common questions we get asked is "Who uses a coworking space?" While in the city, coworking spaces are usually inhabited with startups and freelancers, our space is used a bit differently. We're proud to have many different types of people use our office space, some of which include:
Startups and entrepreneurs – Coworking attracts people who are building a new business, whether it be a small/local business or a scalable/global business. Starting a business is hard and can be very isolating, so these people tend to use coworking as a way to not only get cheap office space, but to also socialise and be part of a community.
Consultants – We have many different types of consultants use the space including management, digital and innovation consultants. Because of the client-focused nature of their work, consultants tend to primarily use the coworking space for the meeting rooms, video conferencing facilities and fast internet.
Freelancers – Like city coworking spaces, we also have lots of freelancers frequent the space. Our freelancers come from a wide variety of backgrounds specialising in blogging, SEO, life coaching and photography. Like other entrepreneurs, the life of a freelancer can be lonely, and as such, freelancers like using the coworking space for the social aspect and community networking.
Remote workers – Our first ever customer was someone who works remotely who needed access to fast internet and reliable high-quality video conferencing. This group of people is growing as more and more people flock to Baw Baw shire and skip the city commute. For those whose city jobs allow them to work flexibly, they tend to enjoy the space because it's free of the distractions at home whilst having all of the same amenities (printing, fast internet, video conferencing and coffee machine) their office would have. 
The business community – One of the most surprising things we've found is the use of our meeting rooms for once-off situations. For example, we had a dispute resolution and negotiation happen at the space because it's difficult in Warragul to find 2 meeting rooms that are close, but not next to each other, for the different parties. More and more people are choosing to simply book the meeting rooms for an hour or 2 because of the shortage of centrally-located, high-quality and quiet meeting spaces.
Students – Another suprising group of people who are using the space is students. Most of the students who are using the space are post-graduate students who are studying in the city or remotely. They like using the space because they have access to a good quality printer, fast internet and it's quiet (they don't have the distractions of family or household chores like they do at home).
We have a wonderfully diverse community at the Herd which is not only great for networking, but it also helps boost creativity in the space. Diversity of people has been shown to significantly boost creativity and we've already seen some outcomes of this with ideas and collaborations happening in the Herd community.